I just realised I didn't yet post my June reading. It was another good reading month!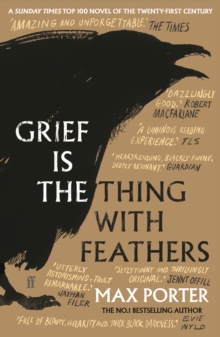 I really struggled to know how to review this book. Max Porter's Grief is the Thing with Feathers is a short novel about grief – a dad and his two young boys lose their wife/mum suddenly, and the story is told in three voices, the dad, the boys, and the crow, which is a metaphor for their grief and helping them get through it. The positives: it's beautifully written, poetic, with stunning use of language. The negatives: it just felt slightly out of reach to me – I understood the crow as a metaphor, but aspects of what was written felt clever and a bit arch, and made me feel like I wasn't quite clever enough to really fully get it. I'm glad I read it, but I don't know that I'd rush to read it again. 3.5/5.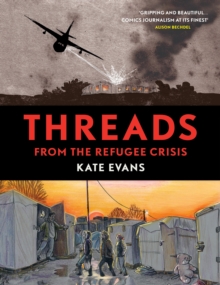 I had high hopes of Kate Evans' graphic non-fiction book Threads: from the Refugee Crisis, having previously read her excellent graphic biography of Rosa Luxemburg, Red Rosa. I wasn't disappointed, this is an absolutely fantastic book. She documents her trips volunteering in the Jungle refugee camp in Calais a few years ago, foregrounding the people living there trying to eke out an existence and find a way of reaching the UK (often to rejoin family members who were already there). Amongst their stories, she includes images of tweets and comments received against her work – the typical below the line 'how do you know they're refugees, they're coming over here, taking our jobs' type comments – and the stories that she presents really show the ignorance and prejudice behind those comments. She doesn't shy away from the deprivation and traumas that people have experienced, and the reality of the prejudice, indifference and politics they are likely to face if they are ever successful in reaching the UK, not to mention the police brutality and traffickers that prey on camps like the Jungle. But infused throughout is hope – a celebration of the human spirit and generosity. Outstanding. 5/5.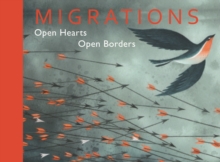 Migrations: Open Hearts Open Borders was completely and utterly gorgeous. Here's the blurb:
From all over the world, picture book illustrators sent original images and personal messages, in postcard form, for Migrations, an exhibition curated by the International Centre for the Picture Book in Society.
Over fifty of the cards are reproduced in this very special book. With contributors including Isol, Jon Klassen, P.J. Lynch, Roger Mello, Jackie Morris, Chris Riddell and Axel Scheffler, it carries a powerful message about human migration, showing how cultures, ideas and aspirations flow despite borders, barriers and bans.

All of the pictures are of birds, and many of the cards featured messages from the illustrators, either personal messages or extracts from poetry or prose by others. It is just so beautiful, and so moving, I loved it. 5/5.
I picked up Ian Crofton's Scottish History Without the Boring Bits at the National Museum of Scotland in Edinburgh a few years ago. This is the blurb:
Scottish History Without the Boring Bits offers a colourful melange of the bawdy, the bloody, the horrific and the hilarious episodes and characters that have spattered the pages of our nation's story. From the War of the One-Eyed Woman to the MP cleared of stealing his ex-mistress's knickers, Ian Crofton presents a host of little-known tales that you won't find in more conventional works of history.
The story starts in the 4th millennium BC with the expulsion from Eden of the first Scot. It then makes its way via the medieval bishop roasted in butter and the appearance of the Devil in Ayrshire disguised as a lady's lapdog, right up to the twenty-first century, when US intelligence identified a distillery on Islay as a possible threat to world peace.
So forget the usual parade of what James Bridie called 'Wallace-the-Bruceism' and Charlie-over-the-waterism'. That's all history. Here, for the first time, is the story of Scotland as it's never been told before.
The book is a succession of anecdotes, some with stronger claims to historical accuracy than others, and I must admit I found the 20th century and beyond section the most entertaining (not least because I remembered some of the latter things happening, and in fact one of them was round the corner from where I used to live in Glasgow). This is the ideal book for the toilet bookshelf – it's one to dip in and out of. Reading it from beginning to end got a bit stodgy, but with occasional dips into random pages I think it would be more entertaining. 3/5.
Marcia Kester Doyle's Who Stole my Spandex? Life in the Hot Flash Lane was a book I got via bookbub a couple of years ago. The author is an American blogger who writes the Menopausal Mom blog, and what I hadn't realised when I bought it was that this book is basically a collection of blog posts. Which is fine, but there were so many that they did start to feel very repetitive after a while. I also found the blurb and the introduction rather over-promised on the hilarity, although maybe that says more about me than the book. I do like mum bloggers (eg the Unmumsy Mum, etc), but just found this book wore a bit thin. She is clearly a very good and entertaining writer, and actually the three posts that she wrote about family members she had lost (her twin son who died shortly after birth, her sister, and her dad) were really very moving – I've added an extra half star for those ones. The rest all pretty much ended blending into one for me, and I can't help feeling a stronger editor might have made this a stronger book. 3/5.
Pete Souza was the official White House photographer throughout President Obama's 8 years as US president. This huge coffee table book, Obama: An Intimate Portrait, is a collection of over 300 of his photos of that time. I got it as a Christmas present a couple of Christmases ago, and until recently hadn't even taken the cellophane off it, because I thought I would feel too sad looking at it. Actually I found it very uplifting – even though politically he wasn't all I had hoped – particularly when I made myself remember that it wasn't actually a lifetime ago (even though that's what it sometimes feels like). Souza's commentary on the pictures is very minimalist, he largely lets the pictures do the talking. Some of these photos are really very powerful. 5/5.
How Russia Really Works: The Informal Practices that Shaped Post-Soviet Politics and Business, by Alena V. Ledeneva, is an academic book which carries on from her previous book which looked at blat (personal informal practices) during the Soviet period in Russia. This book looks at the late 1990s, and analyses the various informal practices that have moved beyond the personal to grease the wheels of political and economic life in Russia in the first decade after the collapse of the Soviet Union. It covers practices in elections (eg use of PR), media (use of compromising material), industry and business (barter and financial scheming), and legal and security (alternative enforcement). It was very interesting, although I can't claim to have been able to fully follow all the ins and outs of quite complex trails of accountability and obligation. 4/5.
Dea Birkett's Off the Beaten Track: Three Centuries of Women Travellers is the book that accompanied a major exhibition at the National Portrait Gallery in London in 2004. I went to the exhibition and bought the book at the time, so I'm glad I got round to the book eventually! Most of the women featured here, at least the British women travelling round the world, are from the moneyed/aristocratic classes, as might be expected, but despite me not being a huge fan of aristocrats generally, this was a very entertaining look at some very enterprising (and, it has to be said, very very white) women. The final section detailed women who travelled to Britain, and at last there was a bit more diversity to add to the mix. I remember enjoying the exhibition very much at the time, and I enjoyed this book too. 4/5.