Books I read in March 2019
The Boy Who Could Change the World: The Writings of Aaron Swartz by Aaron Swartz is a bit out of my comfort zone in terms of subject matter, but was really interesting. Swartz was a young internet 'hacktivist' who was involved in setting up both RSS and reddit, and who eventually was charged after making vast numbers of academic journal articles freely available and threatened with a 35 year jail term. He committed suicide before he could be sentenced, at the age of 26.
The writings here consist of blog posts, longer essays and speeches, and the earliest ones date back to when he was 14 years old. It is clear that he was a very intelligent and talented young man, and even when I didn't agree with him (or understand him, as in the collection of writings on computers), I found him a very engaging writer who often was quite compelling. The most impressive section, in my view, is the section on politics, including an extended seminar he gave outlining the workings of American politics, in particular the various decision-making processes and the ways that bills do (or more often don't) get passed. That was fascinating, and also quite scary. I'd love to read what he'd have made of the last couple of years, and it's a tragedy that his voice was lost too young. Although I'd say I was largely sympathetic to a lot of what he was saying, there were a few topics where I felt that his conclusions went way beyond where I would go (this is particularly true of his thoughts on free downloading, and also on 'unschooling'), but I was always interested in seeing where he was going with his arguments. 4/5.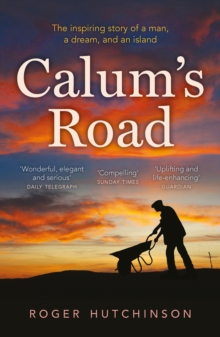 Calum's Road by Roger Hutchinson is a fantastic book. I bought it a few years ago while on holiday on the Isle of Skye. It tells the true story of a remarkable man on the neighbouring island of Raasay, who after decades' worth of petitions to the local council to extend the main road on the island had fallen on deaf ears, decided to take matters into his own hands and build the road himself. By the time he finished it (well into his 60s), he and his wife were the only residents left in the north of Raasay, and since their deaths the north of the island has remained uninhabited. Calum had hoped when he started building the road that it would encourage the then population to stay, and once they had left, that it would encourage new crofters to come into the area. Sadly that didn't happen, but the road is still there, now officially known as Calum's Road, and this is its extraordinary story. A wonderful and inspiring man, and his story is really well-written here. There's a brief summary of the story here. 4.5/5.
Chris Moon's One Step Beyond is one of my longer-standing TBRs, bought from the QPD (postal!) monthly book club, which I was in in the late 90s/early 2000s. I bought it after seeing him on a talk show (I suspect either Wogan or Parkinson) plugging the book. Chris Moon left the army and started working for the HALO Trust in mine clearance, first in Cambodia and then in Mozambique, in the mid-90s. In Cambodia he and his team were kidnapped by the Khmer Rouge, but managed to make it out alive. While he was working in Mozambique he stepped on a mine, and lost part of his right leg and his right hand. He nearly died, but made a remarkable recovery and ended up running the London Marathon. That's where this edition of the book ends – I gather that a subsequent edition features his subsequent running of the Marathon de Sables, a 137 mile race across the Sahara.
There was a lot of interesting information about the mine clearance programmes, and this plus the latter chapters detailing his treatment and rehab were the most interesting for me. The kidnapping in Cambodia took up about a third of the book – they were captive for a few days only, but this section is told in minute-by-minute detail, which did give a sense of the tension and stress and foreboding they must have all gone through, but did also make the book drag a bit. In contrast, the only things he really details about the Mozambique work is the day of the accident. He's clearly a very impressive person – having survived the kidnapping where everybody assumed he'd be killed, and then horrific injuries after the mine blast which would have killed most people, to have survived at all, never mind achieved all he has, is testament to his strength of character (facetiously, with luck like that it also made me think I'd like him to choose my lottery numbers). It took me a while to get into – he writes throughout in the present tense, which I found a bit jarring, and I think I also found him a bit intimidating. Not in a bad way, he's clearly a nice guy with a great sense of humour, but it was just going through so much and making so many right decisions in extreme adversity made him feel a bit on a pedestal. I'm not explaining that very well – suffice to say, I'm glad I've read the book, and I'd recommend it although I probably wouldn't reread it. 3.5/5.
I don't want to go to sleep! by Christopher Francis is a sweet picture book with simple and minimal words, that would be ideal to read to a pre-schooler before bed. A brother and sister don't want to go to sleep, but the Moon tells them about all the dream-adventures they'll have if they sleep. Cute. Pdf copy received from the publisher as part of the LibraryThing Early Reviewers programme. 4/5.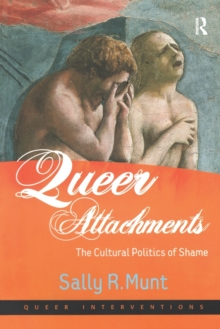 Sally R. Munt's Queer Attachments: The Cultural Politics of Shame is an academic book which I bought towards the end of my PhD (as shame was a theme which had emerged from my research), but which I never got the chance to do much more than skim at the time. The book looks at aspects of historical and contemporary culture (including TV programmes such as The Office, Queer as Folk, and Six Feet Under, the St Patrick's Day parades in the US, and the art of Tracey Emin) and looks at how shame, as well as being a negative thing, can also be productive in forming identities and communities. This is done with particular reference to Irish, queer, and working class communities.
I found the book mostly very interesting (I particularly enjoyed the Six Feet Under chapter), although sometimes I did find the academese writing a bit dense – I suspect I'd have got a lot more out of this if I'd read it when I bought it when I was in a more academic frame of mind! Mostly though it was a thoughtful and interesting read, and I'm glad I got to read it eventually. 3.5/5.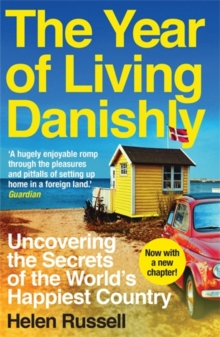 I'm a sucker for a good book title pun, so was already favourably disposed towards Helen Russell's The Year of Living Danishly (subtitled 'Uncovering the secrets of the world's happiest country'). The author is a journalist who was based in London and fully living the rat-race life, when her husband gets a job with Lego for a year and so they move to rural Jutland. She discovers that Denmark is regularly touted as the happiest country in the world in international surveys, and sets out to discover why. The book is a January to December look at various issues as they settle in and try to make sense of Danish traditions and see if living there really can make them happier.
Initially I thought I was going to be disappointed, and felt that the book was a bit superficial. However, a few months in she does start addressing the more negative side of Denmark (the everyday sexism, despite legal gender equality, and the growing rise of right-wing anti-immigrant parties) and then it felt much more balanced and realistic. About half way through the book they are visited by a Swiss friend, and the incident where they hoist the Swiss flag in his honour is hilarious (turns out Denmark has Rules about flag-raising).
I did feel sad in several places, that the move that they were able to make so easily (due to the UK being part of the European Union) is likely to be much harder (if our stupid politicians can ever get their act together, that is). Bah. 4/5.
In Siberia by Colin Thubron, one of my favourite travel writers, was every bit as good as the other books of his that I've read. He travelled east from the Urals in the late 90s, sometimes on the Trans-Siberian railway but not always, discovering the length and breadth of this vast unknown land. As usual with his books, we meet locals, experience life in the raw, and his descriptions are just beautiful, it was easy to picture what he was describing and there wasn't a word out of place. Fabulous. 4.5/5.
I've been binge-listening to the Bestseller Experiment podcast for the last several months, and it is one of my favourite writing podcasts out there. The premise is that the two Marks set out to write, edit, market and sell a book that became a bestseller, all within a year, and share the journey in the first year of their podcast, which features tons of writing and publishing industry advice from both indie and traditionally published authors and publishers. Back to Reality, by Mark Stay & Mark Oliver, is the book that was the end result. The first thing I have to say is that this really isn't the kind of book I normally read – I guess it basically falls into the 'up-lit', women's contemporary fiction type genre – and so despite loving the podcast I wasn't actually holding my breath that I'd like the book all that much. However, I was increasingly pleasantly surprised, and would thoroughly recommend it as a light-hearted and funny read. This is the amazon blurb:
Jo's world is about to change forever, and it's about time
Her marriage is on auto-pilot, daughter hates her, job sucks and it's not even Tuesday.
As Jo's life implodes, a freak event hurls her back to '90s Los Angeles where, in a parallel universe, she's about to hit the big time as a rock star.
Jo has to choose between her dreams and her family in an adventure that propels her from London to Hollywood then Glastonbury, the world's greatest music festival.
In her desperate quest, Jo encounters a disgraced guru, a movie star with a fetish for double-decker buses, and the biggest pop star in the world… who just happens to want to kill her.
Back to Reality is a funny, heartwarming story about last chances, perfect for fans of Rowan Coleman and Helen Fielding.
It's well-plotted, fast-paced and funny, and I could absolutely see it as a fun summer movie. 4.5/5.